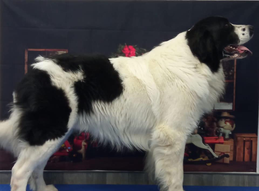 INGRID GYÖNGYE BATMAN
born date: 26.02.2018.
HDA, ED0, OCD free  
after the parents: CYS & CTP FREE, MD &DM FREE
D-Locus free
Mother: Avalon Carpathian Valley
Father: Estike-Bérczy Baileys
http://estikeberczybaileys.jimdo.
Austrian Landseer Club Baby Winner     
Hungarian Molosser Club / MMKE  Puppy Winner 
Hungarian Puppy Grand Winner
Slovak Junior Winner
Hungarian Junior Champion
We are often going with him to the dog swimming school:
25.08.2018. Oberwart 4. Austrian Club Show
minor puppy class: VV1, BEST MALE BABY
22-23.09.2018 Kecskemét CACIB
Puppy class: 2*very promising, 2*best puppy
05.10.2018.
Békéscsaba MMKE Hungarian Molosser Club Show with CAC - HU
MMKE Hungarian Molosser Club Puppy Winner! & he finished the
Hungarian Puppy Grand Winner title!
21.10.2018. Komárom CACIB -HU
Puppy class: very promising
02.12.2018. President's Cup CACIB Show Budapest - HU
Junior class: excellent 1, HPJ, BOJ & BOS 
08.02.2019. Budapest FeHoVa CACIB / young class: excellent 2
09.02.2019. Budapest FeHoVa CACIB / young class: excellent 2
09.02.2019. Budapest MULK Club show: excellent 3
24.02.2019. Bratislava Vitaz Slovenska
Junior class: excellent1, CAJC, BOJ
🏆SLOVAK JUNIOR WINNER🏆
24.03.2019 Salgótarján CAC - HU
Junior class: V1, HPJ, BOS❗️
30.03.2019 Békéscsaba CAC -HU
junior class: V1, HPJ, BOJ, BOS❗️                    HUNGARIAN JUNIOR CHAMPION❗️❗️❗️